I got a dress shirt for my birthday but they forgot to take the security ink tag off of the shirt at the store.  This shirt was not stolen and I could have taken the shirt back to the store and had them remove the tag for me but, the store was far away and I thought I could remove it myself.  I will show you how I did it.  This general method should work for other types of security tags too.  Please, do NOT steal clothing.  Stealing is bad. This information is provided for those who have purchased clothing only to get home and discover the security tag was not removed at the store.  You should be careful with the ink security tags because rough handling will cause the ink capsules to break and release ink.  I've never had an issue with this, but it could happen.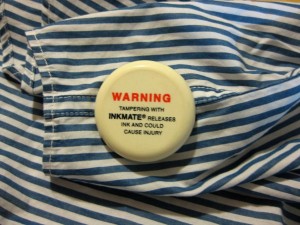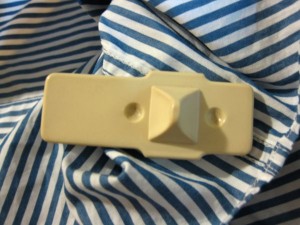 The back of the security tag is a long rectangle with a square pyramid on one end.  All security tags that I've seen have one side that looks roughly like this.  This is the side you will want to work on.  A Dremel tool with cut-off wheel will make this job very easy.  You can use a hack saw or something like that but a Dremel is much faster.  Use a cutting device to cut off the pyramid.  Unfortunately with this tag design, the parts we want access to are buried deep below the pyramid so we need to cut away more.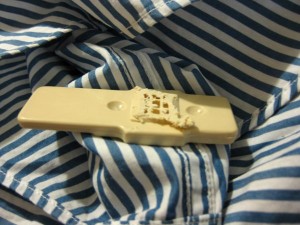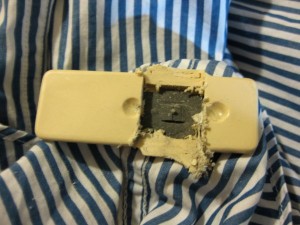 You want to expose the metal pin inside the back of the tag.  This metal pin is attached to the front of the tag, is pushed through the clothing, and is held onto the back of the tag with 2 metal clips.  If you can free the clips that hold the pin, you can free the 2 halves of the security tag.  You can try prying the metal clips up with pliers but I found that making a vertical cut on each clip will free the pin.  I didn't have to go all the way through the metal clips but just had to cut enough so the metal clips would release some tension on the pin.  Once the pin comes free from the metal clips, you can easily pull the 2 halves of the security tag apart.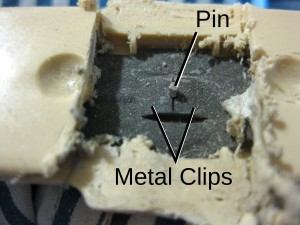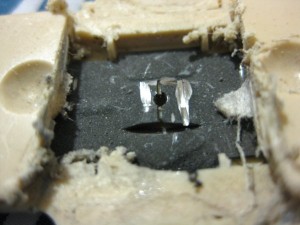 This took me about 15 minutes to complete but I bet I could do it again in about 5 minutes.  I have also removed a non-ink security tag using a similar method.  If you just cut apart a security tag enough, you will gain access to the pin that holds it together.  With a little extra work, you can free the pin and remove the tag.  The other tag I removed used a ball bearing-like mechanism to hold the pin and it was actually a little easier to dismantle than the metal clip mechanism shown here.  Now go enjoy your new clothes!