Here is how to quickly and easily drill holes in glass.  In fact, you can drill a 1″ hole in a 10 gallon aquarium in under 3 minutes from start to finish!  I've tried several methods and the method I describe here is by far the fastest and easiest.  Skip to the video.
Do not try to drill into tempered glass.  Trust me, I found out the hard way.  Some larger sized aquariums use tempered glass on the bottom so check before you drill.  There is a chance you will break the glass even if it is untempered so I suggest you practice first, if possible, and always wear safety goggles!
You will need an electric hand drill.  Cordless drills are easier to work with in my opinion.  Make sure you can control the speed of the drill precisely.  I have a cheap corded drill that I have a hard controlling the speed with and I broke an aquarium because I drilled too fast.  You will also need a special drill bit.  Large hardware/home stores sell pointed drill bits for use on tile.  These may work, but I've never tried them.  I suggest you get a good diamond coated drill bit.  They are more expensive than the pointed tile bits but worth it.  Let me say that again, get a GOOD diamond coated drill bit!  You can find them online.  My 1″ bit cost about $30.  I think I got mine from here, but I can't remember.  I recently (11/6/2011) bought one at my local Menards and they had a decent selection of sizes. More recently (1/17/2015), I saw a nice selection at my local Lowes. You can also buy sets pretty cheapy on Amazon these days:
Set of 5 (up to 1″) – http://amzn.to/1AOIbTW
Set of 5 (up to 1/2″) – http://amzn.to/1Cdd4WC
Set of 5 (up to 1 1/2″) – http://amzn.to/1AOJhim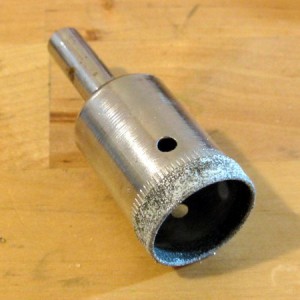 You will also need some clay.  I use cheap children's modeling clay from the craft store.  You don't need much and as long as it doesn't dry out, it will last a long time.  Here is the video demonstration of how to drill glass in under 3 minutes:
The first thing to do is to form the modeling clay into a wall around the spot you will drill.  Try to make a good seal between the clay and the glass.  Tiny leaks shouldn't make much difference but your well should be able to hold water for several minutes.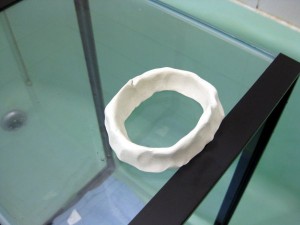 Fill the well with water.  You want to make sure your drill bit stays wet at all times.  Most glass drill bits have little holes in them.  Make sure water can flow into these holes to cool and lubricate the inside of the drill bit.  Start to drill at an angle.  This will help the bit bite into the glass and will prevent the bit from sliding around as you continue to drill.  The most important thing to remember while drilling glass is to go slowly! Keep the drill at a slow speed at all times.  If you go to fast, you will crack the glass.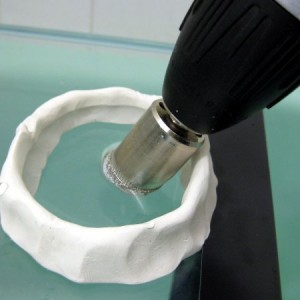 Once you have drilled an arch in the glass, slowly angle the drill bit into a vertical position while continuing to drill.  Your starting arch should hold the bit into place as you tilt the drill up.  Continue to drill.  I like to pour freshwater into the well when the water gets cloudy.  This keeps the temperature down and makes it easier to watch my progress.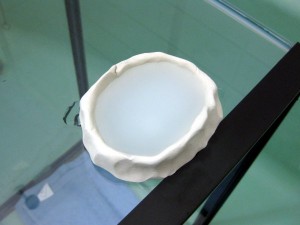 When you get close to the end, slow down your drill even more.  This will help prevent the edge of the hole from chipping.  When you get all the way through the glass, the bottom of the hole will drop out and the water in your well will quickly drain in a most satisfying way.  Clean up the mess and you are done! Back to the video.