Background
The NiCd batteries for my old Craftsman 18Volt cordless drill finally died and I have been unable to fix them (yet).  I figured out that a new drill would cost about the same as 2 new batteries so, I went shopping for a new cordless drill.  I did a TON of homework, checked out a bunch of different drills, and finally decided on the Craftsman NEXTEC 12Volt lithium-ion drill (Amazon link).  What follows is my review of that drill after using it for several months.  I have not received any form of compensation from Sears or Craftsman.  This review is my personal opinion on this product.
I wanted a drill with enough power for typical household repairs and projects, one with good batteries, one that was easy to use, and one that cost about $100-125.  My old 18volt drill had plenty of power for me so I looked mostly at models in the 14-18 volt range.  My old drill was large and heavy and not very easy to carry around or to pull out to drill one quick hole so, I was interested in slightly smaller drills but I also looked at larger models.  I liked the compact size and weight of lithium-ion drills but was put off a little by their higher price tags.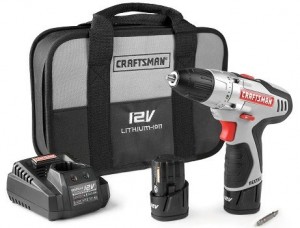 Exterior

The drill comes with 2 lithium-ion batteries, a charger, a case, and screwdriver bit and costs about $100.  The only place you can buy Craftsman tools is at Sears because Sears owns the Craftsman brand.  You may be able to find other online merchants.  The drill was within my price range (+1) and I've always had good experiences with Craftsman products (+1).  The drill itself is compact and light weight but feels very solid and durable in your hand (+1).  My initial reaction was that the grip was too thick (-1), and I have average to above average sized male hands, but I've gotten used to it.  The batteries are much smaller and lighter than my old 18volt NiCd's (+2).  The shape of the drill allows it to stand upright on a flat surface, it isn't very stable like this, but it is handy nonetheless (+1).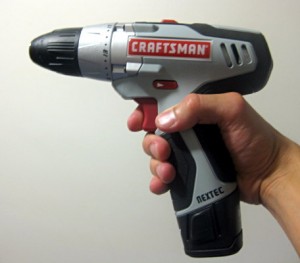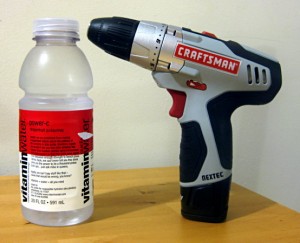 The drill has a 3/8″ chuck while many newer drill have a 1/2″ chuck.  My old drill had a 3/8″ chuck and I have never needed a larger chuck (-+0) but if you need a 1/2″ chuck then look elsewhere.  The drill has a 17 position clutch that seems to work well but I don't use it much (-+0).  There is an LED light that comes on when you press the trigger.  The light is pretty much useless unless you are drilling in almost complete darkness in which case you should just get a flashlight (-+0).  In general, I think lights on drills are always useless.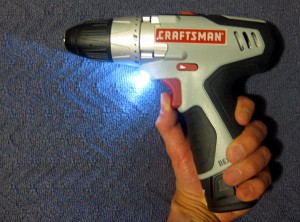 On top of the drill there is a 2 position speed selector which allows you to select "Hi" speed and "Lo" speed.  The selector is plastic and slides forward for "Lo" and backward for "Hi" but doesn't always slide all the way.  When the slide gets stuck between speeds, the drill makes a horrible noise and won't spin.  It is not always obvious when the speed selector is between speeds without pulling the trigger.  The speed selector is definitely the biggest flaw of this otherwise excellent drill (-2).

The case is a semi-rigid, soft-sided case.  It is small so, it is easy to carry around, but has enough room to store the drill, 2 batteries, and the charger or a box of bits (+1).  Overall, I like the case with 1 exception.  The zipper on the case is not very good.  You can unzip the top and completely remove the lid.  I have no idea why you would want to do this.  Because of this "feature", if you unzip the lid almost all the way, the end of the zipper will pull apart (see photo).  This can be annoying (-1).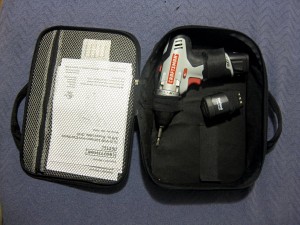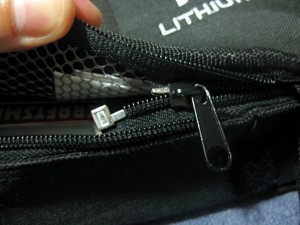 Performance
Even though the drill uses only 12 volts, it packs a punch!  There is plenty of power for most household projects and can be used for the occasional larger project.  I was actually surprised at how much power this 12 volt drill has (+2).  I've driven 3 1/2″ drywall screws into plywood and pine 2×4's without pilot holes and the drill had more than enough power.  If your full time job involves using a drill all day, then you might want a bigger drill, but for most other people, this drill is probably all you'll need.  The drill is compact and fits into tight spots, making it a great tool around the house or in the shop (+1).
The batteries last a long time and since they are lithium-ion, they run at full power until they are completely drained (+1).  NiCd's slow down as they drain.  Lithium-ion batteries don't suffer from memory like NiCd's either (+1).  The charger says it will charge a battery in 30 minutes.  I've never tested this but it seems to be accurate (+1).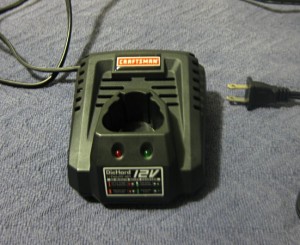 Summary
The Craftsman NEXTEC 12Volt lithium-ion drill (Amazon link) is quite compact, easy to use, surprisingly powerful, and relatively inexpensive.  The lithium-ion batteries are good, light weight, last long, and charge quickly.  The only negatives are the speed selector sucks and the zipper on the case sometimes comes apart.  I would definitely recommend this drill for anyone who needs a drill for common household use, small to medium projects, and the occasional large project.
Overall Rating = Excellent (+9)
Update (23 March 2010)
I've had this drill a little while now and use it occasionally.  Recently the chuck has started to slip and lose its grip on bits, both drill bits and driver bits.  This is annoying and reduces the power and usefulness of the drill.  I am  looking into ways to correct the problem.  Any ideas?