Recently I used up all the lines in my check register for my checking account.  You usually get a new one when you order new checks but I won't need to order checks for a while and I didn't have an extra register laying.  I went to several stores trying to buy a new register but I could not find any.  Then it dawned on me that I could easily make one from a spreadsheet.  This is how I did it (files below).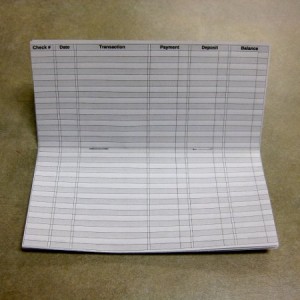 It is not difficult to construct a check register using a spreadsheet program.  I just measured and copied my old one and made a few minor changes based on my preferences.  Then I printed out 5 copies at 100% scale making sure it was centered both horizontally and vertically.  Then I flipped the paper over and turned it around so that the top became the bottom and the front became the back and then printed 5 more copies.  This left me with 5 sheets with the register printed on both sides but turned upside down on one side.  This allows you to flip through the register.  If you print it wrong, you'll figure it out when you put everything together.  I used a paper cutter to cut very closely around the grid.  Scissors or an X-Acto knife would work but a paper cutter is easier to use.  I then folded the 5 sheets in half and put 2 staples in the crease.  This fits nicely in my checkbook and I can continue to keep track of my account.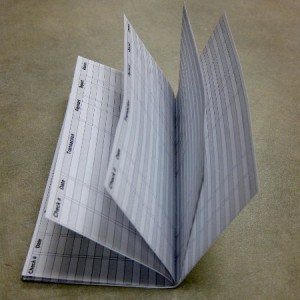 Here are the files if you wish to use my design.  I use OpenOffice 3 and I recommend you use that file (.odt) but I've included a PDF, which should work, and an Excel 97/2000/XP file (.xls), which may or may not be formatted perfectly on your machine.
Check_Register_Makify.ods <– OpenOffice 3
Check_Register_Makify.pdf <– PDF
Check_Register_Makify.xls <– Excel 97/2000/XP